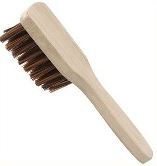 Hoof Brush
One of the most important ways to protect your nippers and hoof knives from undue wear and tear is to clean the hoof properly before beginning your hoof work. Two items are essential -- a good hoof pick and this handy hoof brush. For a small investment, you can extend the time between sharpening, and your valuable tools will last longer.

If fine grit remains on the hoof when you begin your hoof work it can dull the edges of your nippers and knife, and the tines of your rasp.
This stout little brush does an excellent job of making sure the hoof is free of dirt and debris. The handle is made of wood, and the bristles made of stiff poly. Approximately 7 inches (18cm) long.
---
We Also Recommend