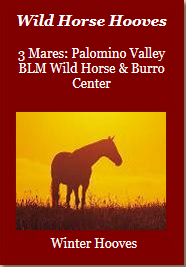 Wild Horse Hooves in Winter (DVD)
Wild Horse Hooves in Winter (DVD)

3 Mares: Palomino Valley
BLM Wild Horse & Burro Center
DVD 30 min.


After 24 years, Jaime Jackson returned to wild horse country to obtain new video footage of wild horse hooves. Included in this unprecedented video study are the feet of three wild horse mares, ages 3, 8 and 12. If you are a student, scholar, or advocate for natural hoof care, we consider this video an invaluable addition to your library.

A message from Jaime about this study:
"The hooves in this video were taken during the winter of 2007 (December). The horses were removed from ranges covered with snow, as were much of the corrals when the footage was taken. Hence, you will be able to see the impact of moisture, snow, and mud on the hooves. I recommend reviewing descriptions of such 'winter hooves' in my book
The Natural Horse
when viewing the video".
---
We Also Recommend